What if I tell you that your business can be visible to billions of Google users worldwide for free?
Sounds too good to be true? Especially when we know how marketing a startup has become expensive nowadays!
Google My Business, also known as Google map business, is a free tool by Google to help you list your business on Google search results!
Before we talk about Google My business strategy, let's be clear that local organic SEO and Google My Business are different from each other.
In this article, I will explain to you how to use Google My Business to optimize your business listing. Learn the pro ways to nail GMB optimization through tutorials for every step.
Bonus: Be with me till the end of this article, and get a free e-book that I created.
In that e-book, you will find these three things.
1) Google My Business Checklist
2) How To Write Attractive Google My Business Description
3) Google Tips For Responding To Negative Reviews
What You Will Learn in This Post
What Is Google My Business
It is a revolutionary feature of Google. Google My Business or GMB enables business owners to list and manage info regarding their business online. It helps people find any services or place nearby their location.
With Google map business, you can easily get information about any company or service provider, including its Location, Website, Phone Number, Working Hours. As a bonus, the company reputation is also for all to see via their Service and Product Review.
In other words,
Google Allows business owners to set up a brief profile of their company on Google to show their Business information to prospective clients.
Or
Whenever you lookup for any service on google, it gives you three results under a map. These results come from Google My Business. So, basically, Google My Business acts as a web directory for all types of services.
As you know, a lot of companies and service providers provide the same service and product from the same location, so why is it that Google shows only the top 3 business information in their results?
It all depends on your Google My Business Optimization.
I will guide you below on how to optimize your business for the top 3 results.
Sounds mind-boggling, right? Read on this Google My Business overview to know more.
For Any Queries, Get Help From:
If you want any help regarding Google My business, you can reach out to the Google Help Center website or call on 18444919665.
You can also tweet on Twitter at @GoogleMyBiz
Google My Business shows your business information at 3 locations.
Knowledge Graph (Knowledge Panel)
Google Maps
Local Finder (Google My Business Result)
Why Use Google My Business
Today, 9 out of 10 people search on the Internet when they want to buy a service or product, and 7 out of 9 people make purchases from the shop which the search engine recommends.
By using Google Map Business, your business can appear right away on Google.
When people search for products or services you are offering, they will automatically get in touch with you. Even if you have a small business, it will get immense visibility!
Today Millions of businesses are on Google Maps, and they are making big bucks. According to a Google report, 70% of people are satisfied with Google My business results.
Learn how to stand out ➡️ and bring customers in ⬅️ with your @GoogleMyBiz Profile 👤 https://t.co/hX9CXVp8Ob pic.twitter.com/Tq1ZT7bmKy

— Google Small Biz (@GoogleSmallBiz) March 22, 2019
So, It's an excellent opportunity for you to grow your business with Google My Business.
When you offer a service or product in your locality, the next thing you have to make sure is to rank higher in the Google Maps business as well as in local organic results as well.
An improved Local Organic Result ranking boosts your Google My Business ranking.
When you optimize your Google my business profile data correctly, it will help Google to understand more about your business and services.
Why Google My Business Is Important?
If we look into Google my business history, it started in 2014. Over the years, there is no looking back, and Google My Business has been sky-rocketing.
The GMB tool helps businesses to attract more customers. It helps business owners share specific information by connecting with customers and sharing posts.
When you submit your business information on Google Map Business after verification, Google shows your business's additional information in SERP at the Right side.
This information is also called Knowledge Graph (also called a Knowledge panel).
Google map business is an easier way to share your business information with customers without getting into the hassle of marketing.
People quickly get exact information about business and services by Knowledge Panel.
Nowadays, everyone uses the Google Chrome browser on their smartphones and laptops. But, even if you use another browser, you can receive all results based on your location.
The Google map business updates its ranking factors year by year.
The bottom line results are worthless because those listings are rarely checked.
If your listing ranks in the Bottom Line In Google, you can't increase your sales.
For good sales, you have to perform very well both Online and Offline.
Optimize your website and Google Map Business listing for Good Online performance.
Let's begin on how to set up Google my business profile.
How to Optimize Google My Business
56% of local business owners have not claimed their Free Google My Business Account Yet.
Do not fall in that 56 % ever.
First of all, you have to claim the ownership of your GMB account. Once you verify your business address and details, you can optimize your Google map business for better ranking.
When you want to rank your business listing in high competition, lots of dedication is needed, as it's a very long process to get a better ranking in Google results. Also, it's impossible without Google My Business SEO.
Lots of small business owners don't know how to get to their business on Google Maps?
Scrap the worries as I am here to guide you on how you can do it comprehensively.
The first step; claim your Business
If you haven't claimed the ownership of your Google My Business account yet, here is the first step, Visit this link and add your business in Google Maps Listing.
Lots of business owners just claim their business, and then they forget about it. They don't know about GMB ranking factors and other features of Google to optimize the listing.
That's why they can't benefit from GMB and don't get any sales. Only adding a business to google is not useful, its ranking is crucially important.
I will now tell you how you can optimize your GMB for Good Ranking.
You might have seen lots of articles and YouTube videos about how optimization for Google Maps business is done?
And yet, you are not able to optimize your account properly?
Do not worry. Here, I will tell you about all the strategies that I use for my business and my customers. The training you will get from here will give you value in 2020 and beyond.
Add keyword With your Location in Title
Lots of people ask me how do I add keywords to my google business page?
So I have answered the question here.
In Google Maps Business, Title Tag is the most critical part. Because, according to Google ranking Factor, if you add your keyword in the title, the chances for a better ranking increase.
As Google My Business Title Length Is 100 characters, you can easily use your primary keyword with your location.
When you add your keyword at the start of Title with the location, you will increase your chances of up to 30% to rank in Google.
According to me, you should add a similar keyword with the main keyword in your title.
You should add one keyword at the start of the title tag. This is the strategy I use, and it is working well for me.
I use this strategy In Google My Business title and also on my website Article Title.
You can see the title of this article as an example. I have already added my main keyword (Google My Business) in the Title.
But how will you know which keyword is best for your website? What keyword has a high search volume, but competitions are low?
For this, you have to use a keyword research tool. You can either use a free or a paid tool.
But, free tools have limited features. Mostly, they don't have accurate data of keywords. That is why I always recommend a paid tool for proper keyword research.
I personally use SEMrush, and always recommend it because I found it amazingly helpful!
Here, to show you an example, I am finding keywords for my client. They are offering Accounting Software in their local area (Surat). So, I would prefer to use Accounting Software In Surat. But, before I use it, I must check if this term has a good amount of search volume. Also, what is the keyword difficulty, and much more?
For this research, I will go to the SEMrush Keywords Magic tool and search Accounting Software in Surat.
SEMrush starts showing you the data which you need to select your primary keyword.
With just one or two clicks, you will get all data regarding your keyword. You can see the Search Volume, Keyword Trend, Keyword Difficulty, Keyword competitions, SERP Feature, and how many websites are ranked on this keyword.
This information is enough for you to decide which keyword is best for you to use as the main keyword.
Select Right, Specific Category, Relevant to Business
The main part of Google My Business Ranking Factor is the category. Therefore, you have to select a proper category according to your business.
Google identifies your business profile based on your category selection. It's quite evident that, if you provide Digital Marketing related services, then you won't rank in any other category.
Now let's take a look at the Google Business category list.
Google has 2395 Business Categories so, it's tough for Google to identify your business category according to your Title, Description, or any other details. You have to choose from the Google My Business Categories list (2395 in number), as creating your own is not possible.
If there is no specific category based on your business, here you can add multiple categories (additional Category) according to your business service.
Be watchful to add the category of this listing according to your business, otherwise, it will be recognized as spam.
Spamming decrease your ranking. So, the more you spam, the higher will be the chance of Google disabling your Google My Business Account.
For instance:
Let's assume you're offering website development services. You selected 'car washing' keyword as you found it high ranking. If someone is searching for Car washing services near your location lands on your page, it won't benefit you as they are looking for something else. Your business would seem like spam to them. That is why you have to select the proper category.
If you are from the US, you get an extra benefit. You can get the advantage of the Services feature, which suggests job types for your business. Alternatively, you can create a custom service. Add as many as 80 characters for service in a category.
Setup Your Company Address and Service Area
As you must know, Google always shows results based on searcher's location. Therefore, it is crucial to set up your business location properly with the correct ZIP code to get full advantage of Google Local Marketing.
Moreover, if you provide your service in multiple cities or places, then you don't have to claim for other Google My Business Account.
You just need to select Multiple Areas or Cities. Do a proper set up like an Ad that will list your business with different area names in your description.
Typically, if you follow this strategy, you will rank in all areas and cities.
Follow these simple Google My business address guidelines.
Set up the correct address with the name of the city, state, and pin code, and properly drag location pin on the map section.
If you are running an online store or business, then you can select the whole country or city because Google officially announced the latest update of GMB, especially for online businesses.
For Instance:- If you provide Service in your location but haven't set up your address correctly in Google My business service area, then you can't rank in your location. And if you rank outside your location, it is worthless for you because you don't provide your service out of your area. You need to set up your location accurately to assist local guidelines.
Setup Your Business Opening and Closing Time and Also your Special Hour
The next step is to set up your business hours. Google wants to show an accurate result to the users; that is why it's crucial to set up your business timing according to your and customers' convenience.
When you are done setting up your opening and closing time, you need to set up your Special hour and date. For instance, if a holiday is coming up, you can set particular timings for that day.
Hour setup informs Google you are caring for your customers, and Google loves this.
Add or Create Your Business Website in Google My Business
When your GMB listing ranks in Google, it will show your Title, Reviews, Business Address, opening and Closing Time, Directions, and Website Option in SERP.
Add your business website link to Google Map, and people will be redirected to your website just after clicking that link.
Your Website On-page Optimization helps Google understand more about your business. The on-page signals Boost your GMB ranking by leaps and bounds.
You can add schema code in your website HTML. Schema code improves how search engines read your web page. Moreover, your local listing will connect to your Website.
But, even if you have no Website, don't worry because Google provides you a Free Google My business website.
Go to the Google My Business Dashboard, Click On Website.
There, you will get free website customization.
You can Customize Google's free website templates according to your requirements.
If you know about SEO (Search Engine Optimization), you can also rank this website In the Google search engine.
[Note: Schema codes don't increase your ranking in Organic Result, but this code Improves your CRT.
By using this code, you can show additional information about your service and product so that customers can know more about you.]
Write in Depth Description Include Localized Keyword
We all Know Title tag and Meta Description holds much importance in SEO, so you have to write in-depth Description of your Service and Product with a localized keyword.
Before you write a description of your product or service, make sure you read Google guidelines about Description. Reading it will clear your mind of any confusion, and you will know what to do and what to avoid.
Google Gives you brief guidelines of what can and what can't be included in your Description.
You can use your location multiple times, but be careful that you don't add it forcefully.
Find your keywords and put them to use:
Find LSI keyword and synonyms keyword according to your niche or industry, but don't forget to add your location with their keywords.
To find Long Tail and LSI keywords, you can use any keyword Planner, free or paid as you want.
When you collect all your keywords, then you can write your description.
You should ideally write a short and catchy description with your keyword and location.
I don't recommend you to do keyword stuffing, but here you can write a description under 750 characters with your all keywords. Your description must be under the word limit.
You should use the Near Me word in your description with your main keywords.
You can also add an Emoji related to your business in the description. Most young people are beginning to search Emoji+ near me (Typically on their mobile devices). This strategy is brand new so you have to adjust your plan with the latest trend.
At End of the article, you will get My Free E-book in which I have added my tips for writing Google My Business Description. I have been training newcomers on GMB for a while now, and they are getting Fantastic value from me. (If you want my tried and tested tips of GMB description, download the free E-book now!)
Add Local Business Photos and Videos
According to Google, Business with a photo get 35% more clicks to their website and 42% higher Direction Requests for driving directions via Google Maps. Put your trust in the potent Google Local marketing.
Most people choose to look at the photos and videos more than reading the content.
You can engage your customers even more by publishing images and videos.
Engagements are one of the essential ranking factors for Google Maps.
Images attract people to a product/service. They develop interest instantly! Therefore, you can easily create engagement with images and videos.
Take advantage of this fact by sharing your business information like Events, Special Offers, your new product, and many more through info-graphics and images.
Google My Business Image SizeHere is your Image Sizes List
Logo Images:
A logo is an identity of your business. You have to use the same image in both places. It means your website Logo should also be your Google My Business Logo.
Profile Logo Size should be 250 x 250 pixels (minimum 120 x 120, maximum 5200 x 5300)
Cover Photo:
Your Cover Photo showcases a brand page personality.
Google My Business cover photo should be a larger size featured photo.
Cover Photo Size Should be 1080 x 608 pixels (minimum 480 x 270, maximum 2120 x 1192)
Interior Photo:
In this part, you have to add your office's interiors images with your office assets.
Interior photo size should be 240 × 240 pixels
Exterior Photo:
Here, you can add your office's images from the outside view, and add popular landmark images nearby yours. When you add landmark images, people get a better idea about your business location.
Exterior Photo Size Should be 240 x 240 pixels
At Work Photo:
Here, you need to add images of your employees and customers' meeting to understand your business environment better.
At Work, Photo Size Should be 240 x 240 pixels
Team Photo:
Here, you can add your employee team photo. You can also add your business trip photo with your employees here.
Team photo size should be 240 x 240 pixels
Google My Business Video:
Videos add a new variety to your Google map Account. It makes you stand out among other businesses in your industry.
Video Length:- 30 Seconds or shorter
Google My Business Video Size:- 100 MB Or Smaller
Video Quality:- 720 Resolution Or Higher
Now, we are going to talk about the trending strategy of Digital Marketing.
Google My Business Messages Tool
Google Allows you to use direct messages function in Google my business.
Sometimes, some people don't want to call you.
A study conducted by textrequest.com showed that 90% of the business Leads come from text messages instead of phone calls.
That's why mobile messaging can be a more valuable part of your marketing strategy.
Google My Business message marketing
It would be best if you take advantage of Google My Business message marketing strategy to grow your business.
Once you verify your phone number, you will have full access to turn on or off and edit your message. Also, you can update the number whenever needed.
Go to the Google Map Business Dashboard, Click on Messaging Option (just above the Photos Option).
Once you open the messaging Dashboard, you can see the two options. Install from Google Play or Install from the App Store.
You can select any one option based on your cell phone(iPhone or Android).
Once you have downloaded Google My Business App In your Cell Phone, You can see the "Business welcome Message" Setup option.
Write a short and cordial message, as this message has the potential to convert people into your customers. As a result, there will be more sales, giving you the benefit.
If you don't want to share your phone number, then you can use the alternative phone number option by Google Allo message.
Once you verify your phone number, you will have full access to turn on-off or edit your message. You can even update the number when needed.
Typically, if you follow the above steps to optimize your business listing, you can see good results within two weeks.
Once you properly optimize your Google Maps listing, you have to check your business listing Score By Moz.
Moz allows you 14 days Free Trial for Moz Pro.
Google My Business ranking Factors
The impact of Google Maps Business on Local Search ranking factor has been growing in 2018. According to MOZ 2018 local search ranking factor survey.
Google My Business signals make up 19% of the top-ranking factors for Your Google maps listing ranking. It means that your Google My Business optimization can boost the ranking of your listing remarkably.
Google update their ranking factor every year. But, very few know that the main ranking factor never changes.
Google loves up to date and current information, so according to me, you must update your information from time to time and share your post on Google.
Features like Google post, Google Question and Answer, and Images/Videos updates are frequently mentioned through the MOZ Survey as top ranking signals.
Share Post for Your Business Updates and Offers
60% of consumers say that local search results with good images capture their attention and push them towards buying a product.
Google allows you to share your business information by publishing a post.
Give customers a snapshot of what your #smallbiz has to offer by uploading photos and posts to your Business Profile on Google 📷 @GoogleMyBiz https://t.co/orYy7X7woF pic.twitter.com/0f8pZXd5Dg

— Google Small Biz (@GoogleSmallBiz) April 9, 2019
Sharing your post will put up your business update, offers, and new product information in front of your audience.
Before you create your first post, you must read Google Post Guidelines. If you wish to post a video, be careful of the video size.
These guidelines will help you get enough knowledge about Google post. After that, you can publish your first post.
Go to Google My Business Dashboard; you can see the posts option. Click on it.
Clicking on that option, you can create your New/First Post.
Posting SEO friendly images:
Before you publish your post, make sure your post images are SEO friendly.
If you did not make your images SEO friendly yet, follow these steps:
Add GEOTag In the Image.
Add keyword In Image Title.
Use keyword In Image Subject.
Add keyword In Image tags.
Add keyword In Image Section Comments.
Make sure you follow these steps before you publish it.
The GEO Tag gives Signal to Google for your business location (Citations). It is a known fact that Google shows results based on your search location.
You also have to add your location (GEO Tag) on your Facebook page, Pinterest, and other social media business listings. When you create a high number of Citations, it boosts your ranking in your targeted keyword.
Once you rank in your location, you can increase your income double or even triple times.
As the SEO friendly Setup is over, we can now publish a post.
Before you publish your post, it is a plus if you know about types of posts. It is also good to know which types are perfect to use to increase income.
You can publish your post in 4 types:
In 'what's new' post, you can highlight new products and the latest services.
Publish the 'event post' to inform viewers about your upcoming event and service.
If you are starting a special offer, or giving a flat discount on your product or service, you should publish an offer post for your audience.
Share your product or service information such as product benefits, product reviews, and a GIF file.
Google offers you to add a Call to Action (CTA) button at the bottom of the post.
Like:
Sign Up
Buy
Call
Learn More
Book
Order Online
When you create your Google post, you have to keep in mind a few things.
Google allows you 1500 characters in post details and 58 characters in Title for a single post. But, only 54 characters of post description and 23 Characters Of Title shows up In their search result.
If you used the CTA button in your Post, Google shows up that button at the bottom of the post.
Google My Business post image size should be 400 x 300 pixels with a high-quality representation of your business.
Always publish GEO-TAGGED images in Google My Business.
Make your image SEO friendly.
Share your all post images on Social Media.
These strategies work for all types of posts.
Google My Business Post Examples
Now you can post in numerous ways like announce your upcoming events, highlight new products or services, or share your business news.
Google posts are free, easy to publish, and a highly visible way to show off your business. It definitely makes good things happening with your business.
Google Map Business not only offers four different types of posts, but multiple posts can also be live at the same time with a CTA button.
Click Here and get 37 Ideas to Publish Your Post on Google. It will give you a clear picture of which Click To Action Button can Boost your post's click-through-rate.
What's New or Add Update Post
You can publish What's New type of post whenever you update your product version or add additional services in your business.
Using this type of post will highlight anything about your product and service. These posts give your business a unique touch.
Here, you can share the latest news or other information based on your business.
To publish these types of posts, I suggest you use "Learn More CAT Button" because here you will be providing the latest information about your business.
If, for instance, you have already published an article on your main website giving full info about this latest news, then add a link to that article here for redirection.
When someone clicks on your Learn More button, it will be redirected to your landing article page. After being redirected, they will get more information about the latest news about your business.
As a result, your customers can easily keep track of your business.
Event Information Post
Here, you can promote your upcoming or current event's information directly on your Google Business.
If your company is starting any events like a free training program or any special festive events, you can use event type posts.
The event post gives you the additional setup, such as a starting and ending date. Moreover, it also lets you set the starting time and end time.
You can easily provide all the information regarding the event so that everyone can see it all.
Remember, here you are aiming to win your previous customers as well as new ones, so it is wise to use Book Button for Good CTR.>
Offer Post
If you or your company provides any special offer on a product or service, then you can use the offer post.
Here you also have the option of adding more than one Event Post.
"From discounts to deals, everyone loves a good offer." Find out how to use this new feature on your @GoogleMyBiz profile: https://t.co/FQ4TNQ2lOEpic.twitter.com/R4drYMcNMq

— Google Small Biz (@GoogleSmallBiz) March 20, 2019

Add an attractive Title to your offer and write up to 1500 characters in the offer description.
You will need to specify the time frame for your offer. You can even set up the time in which the offer post will be live on Google Map business.
Here you will have an option to set up your coupon offer code in offer types of posts.
The formula is clear, more engagement = more ranking = more sales = more revenue!!
Every offer and coupon has terms and conditions, add Terms and Conditions page link on the bottom of the post.
Offer post helps you for E-commerce business also.
Product post
Lots of people make this mistake.
They don't add their product images and videos in the product section.
That's why people don't get to know much about your products and services.
As they don't know what you are offering, they don't feel interested in buying your product.
It means, no sales = no income.
Be careful that you don't make this type of mistake. Post all product images or small videos frequently in the product section.
When you publish a product's article post in your Google My business, carefully add the product name, price (if product price has one type of range, please mention that range in range section). Also, describe the product's benefits, advantages, features, and other details in the Product description.
When someone opens your business listing, they will see the product section option. Clicking on it will show the product and service update and information. (Typically in mobile, Google Shows Product Option in the navigation bar).
It's almost a kind of a ranking factor if you add your product or service images in the product section.
When you publish a post, it appears in Google's Google Knowledge Graph in your business knowledge panel.
However, a significant disadvantage of GMB is that Google automatically removes your post from the bottom of your listing (Knowledge panel) after seven days.
But this post shows up in your Google Business listing.
Feel Free to ASK For Reviews
Reviews are one of the most significant ranking factors in Google map business.
If you have a good review of your business listing, you will certainly rank high in the search engine. As a result, you can make more revenue from your business listing.
We all have one obvious goal behind the ranking, and that is to generate more income and more sales.
Everyone checks your product or service before they purchase it from you.
That's why the first thing they do is to read your reviews and rating at Google.
If your rating and reviews are positive, the chances are high that they will buy your product and services.
Once you get a review of your listing, no matter a good one or a bad one, you have to give a response to that review.
If you get a good review, show gratification by saying thanks in a polite yet professional way.
But even if you get poor reviews, own it by apologizing for the mistake. It will help to build trust and increase your professional demeanour.
Google My Business review character limit is 4000 Characters.
Now, think about how to get a review from our customers?
It's simple; just share your review link with them.
Google allows you to share your listing link for reviews. Read Google My Business Review Guidelines in the link.
You can share a Google My Business review link to your business review using two methods.
Method:1 Using Google Map
Open the Google map in a new browser.
Search your business or company name at the top of the left corner. [Here you can double-check whether your business address is correct or not on Google map dashboard.]
After selecting your business listing, click on the share button.
When you click on that button, you will get a short link, copy that link and share it with your customers.
Ask your customers to give feedback on the product and your service.
But, If you want someone to click on your link and be redirected directly to the review pop-up, that is also possible.
Just follow these steps for direct review pop-up.
Method:2 Using Whitespark Website
Open the website Whitespark.ca
Once you open this website, you will get the tools option in navigation.
Hover your mouse cursor at the tool option to see the Google Review Link generator. Open it
Once you open this tool, you will get a type of map.
In the top left corner, you have to Search your business or company name.
After selecting your business, you can see your business location and business name.
On the bottom of the map, you can see Here's your review Link Box.
And the front of that box, you will get a short link, copy that link text.
And share with your previous customers by sending them email or text messages.
If you direct share your link and ask them for review, they will probably ignore your mail and texts.
Or give you a simple 5-star review without any valuable feedback.
This type of review is meaningless for your business.
Because if someone comes to read your review, but they don't get any valuable Feedback about your business, very likely they will go back and without purchasing your product and service.
The review may be a 5-star review, but it won't increase your sales.
No sales mean No Income.
That's why you need a 5-star review with valuable feedback.
You have to write a proper email/text structure, which will increase your chance of getting more valuable reviews.
Here's an example of a template that I personally use.
Email Template for valuable Feedback on your business
Subject:- Hello (customer name), regarding our service or product feedback.
Hello, [Customer/Client]
We have successfully Completed Your Project on [Project Completion Date]Without your support and information, It would have been tough for us to complete your project. We feel proud to work with you and would love to work with you again.
I hope you have checked this project.
If you like our work, please give your valuable feedback to our Google My Business Listing and other social media platform.
Here Is Link:-
Google My Business Listing Link:-Facebook Page Link:-
A small request from us. When you give a review on our account, kindly use our business name and our services/product name in the review.
Thank you for giving us the chance to work with you. We look forward to hearing from you soon for further projects.
Yours sincerely,
[your name]
When you use this strategy, assuredly, you will get valuable Review and Feedback.
In the above screenshot, you can see the customer used our brand name (GSTBLUE) and service/product name (Bookkeeping, Software) in the Review.
When someone includes your brand and product name in the review, that review boosts your Google maps ranking like a rocket.
If you get these types of valuable reviews on your business, then without a doubt, you can increase your customer's trust towards your product and service.
More Customer Trust = More Sales = More Income
The rule is simple. When there is a good quality review on your business, you get a high ranking, as a review is a major ranking factor.
When Someone Adds your Brand and Service/product name in the review, this is Good for your business. You have to give a response to that review with Keywords. As a result, this Review with keywords will boost your Google My Business ranking.
What happens is that 6 out of 10 customers do not give you a review, including your brand and service name. There is no need to worry because I will share one more keyword strategy later in the review response part.
Just keep this thing in your mind that is Always give a response (Reply) to every review.
No matter if the review is good or bad.
You just need to respond to all reviews on your listing.
How To Rank Higher On Google Maps
Typically, if you are doing all of the above, you will see some results within one month.
But, your work is not over yet.
Till now, you have managed to get a good ranking, not a High ranking.
If you followed all of the above steps correctly, then you can see your business listing either in the top 5 or 6 to 10.
You haven't bagged the 1st position yet. When the competition is low, then you can get the first position in ranking without doing much.
But, when you are in high Competition, then you have to do more work for a high ranking.
In this section, I will share my hacks for High competition keywords Rank.
If you want instant ranking in Google maps, use Google My Business ADS.
If you are not familiar with Google Ads, you should read my detail guide on Google Maps Business AD set up.
In that article, I shared the no-fail strategy that helps you set up your first Google Maps ADS.
But here I will share some of the hacks that are free of cost! So let's start.
Respond To All Reviews with Keyword
As mentioned earlier, a review is a significant ranking factor in Google Map business, and it's right to a great extent.
Positive Review gives you a better ranking and more turnover.
But it's not like only positive reviews will give you a high ranking. Let me explain why.
As the Google review guidelines clearly state that when you receive a review on your Google business listing, you have to answer all reviews on your list with your brand name and service/product name.
Your response holds much importance in Google My Business for more sales.
When you respond to the review, you will create engagement for your account.
As I told you above, engagement is consequential for your business listing.
If you have more engagement on your Google map business, you will make more money from your business.
I have already covered in the above review section how you should get a review with your brand and service/product name. This strategy works well for Ranking.
Remember, I told you that mostly, your customers do not add your brand and service name in the review?
What you should do is add your brand and service name in the review response. When you add your keywords in the response part, it informs Google about your service and product.
In simple terms,
When you inform google about your service through keyword, it saves a lot of Google's time. As a result, Google gives you a good ranking as a reward.
Take Benefit Of a Negative Review
According to the Review Trackers survey, 44.6% said that they would visit the business more likely if the owner has responded to the negative reviews.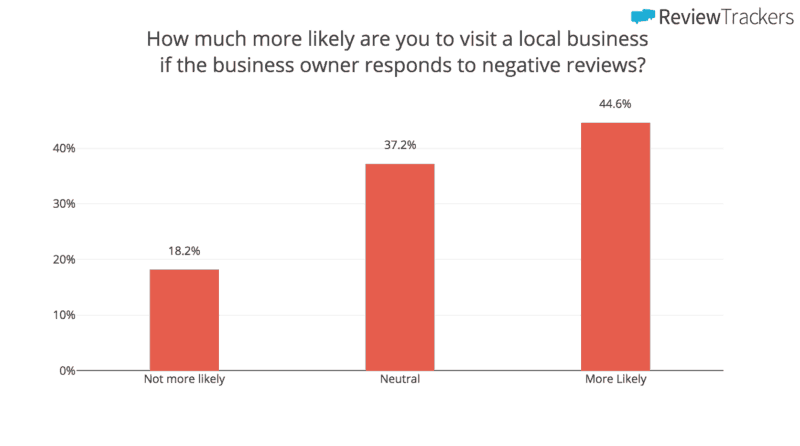 When you respond to a negative review, it builds more trust in your company for new customers. They believe that investing in your product won't be the wrong decision as you own and rectify your mistakes.
(EX:- Someone comes to your listing. They see your sophisticated response to a negative review. Subsequently, they will think you worry about your customer's experience with your service.)
Your Good answer to a review will give a Good Signal to Google for ranking.
When you give a response to your review, keep these things in your mind.
It is always said that provide value to your customers. It means you need to add value in your Review Reply.
Share your experience with that particular customer.
If anything funny happened during the project, make sure to add it with your valuable response to make it interesting.
Make sure to add your keyword in Review Response.
In End of the article, you will get E-Book in which you will get the Google Tip for responding to negative reviews while leaving a positive impression.
When you provide excellent value to your previous customers, then you increase your chances of getting new customers.
You can even get more projects from your previous customers.
Daily Share New Posts
Actively posting on Google is the key to promote your business in an exciting way.
As I told you above, Google loves fresh and latest content for its users.
Fresh content gives the latest information and solves the problems of users.
If your Google My Business Listing is new, you must publish at least one post daily on the Google map list.
If you don't have time to publish new posts daily, you can manage your post schedule by the OneUp app.
OneUp
It is a post schedule management software for Google My Business. You can manage the schedule of all types of posts by using this software.
This software is effortless to use, plus it is quite useful to schedule your posts on Google maps business to leverage it for more sales.
According to me, this is the best software to manage your Google My Business Posts.
When you publish a post daily on GMB, you can easily get more engagement on your account.
By now, you must know that Engagement is the tremendous ranking factor in Google.
Lots of people don't know about this strategy, so you should take advantage of and make the most out of this strategy.
After publishing the post, you have to share all the posts on social media (By using Oneup app you can also easily set up all your social media posts), because there are a large number of social media viewers.
Using social media is a plus as you get more engagement.
Now, I will teach you how you can use social media For rank Google My Business.
Setup Your Social Media Account For Your Business
Nowadays, social media is the best platform for business marketing.
According to a study conducted by a US Company, most people spend most of their time on social media nowadays.
In the present age, people are smart. You also need to match their steps by being smart and changing your marketing strategy.
At least 90% of People are active on social media once a day.
That's why it is wise to take advantage of social media to increase your income.
Social media Profile Setup is indirectly a type of Ranking Factor in Google Maps.
Your business quickly goes viral on social media, but you have to use the proper tag, #tag (hashtag), appropriate keywords in Title, and Meta Description.
Using social media can also help you easily get in touch with target clientele. If you manage to target the right people, then you can undoubtedly increase your income manifold times.
Setup Your Business Page On Facebook
Facebook is leading social media without a doubt. Even Google takes the Facebook page set up as a ranking factor when it comes to Local Ranking.
When you are setting up your business page on Facebook, you will have to set your business name, address, phone number, office/shop opening and closing time, categories, and some other options available there.
When you add your business Name, Address, and Phone number, Google counts that information as citations. Therefore, using the Facebook page will increase your citations and business customers too.
You can also run the Facebook Ads Campaign according to your requirements.
Facebook ads are a little bit confusing to set up, but with daily practice and experiments, you can easily do them.
Setup Your Pinterest Board PIN
Pinterest is an excellent social media platform to generate a good amount of Traffic.
You can increase your traffic monthly by using a simple strategy on Pinterest.
Pinterest allows you to save your business-related images by creating boards. You can also add your business location and increase your business citations.
Google increases your ranking based on your location authority (citations).
As you have already added your Location In Pinterest profile, when you share your GEO-tagged business listing image on Pinterest, then it automatically builds your location trust and authority on Google.
If you haven't added your location In Pinterest yet, you must follow the following steps:
Open Pinterest.
Click On 3 Dot (…) Option on the Right side
Click On the Setting Button below the three-dot option.
You can see the Location option, which is below About Your Profile.
Add the same Address that you have added to your Google My Business Address field.
Congratulations, Your Location is successfully added to Pinterest.
Images easily go viral on the internet; that's why you have to submit your business images here.
After publishing the GEO-tagged Image in Google My Business Post, you have to publish that image on Pinterest.
Before you publish an image on Pinterest, you have to add your contact details in the picture because when the image goes viral, and people see your image, they can easily contact you.
Tips for Pinterest Post
When you save your image PIN, make sure to keep this thing in your mind.
Always Use Google My Business Post Images
Save PIN In your targeted Board
Write an attractive Title under 100 characters using your primary keyword
Write Description under 500 Character with all your keywords
Add Your Landing Page Link
If you follow the above steps, you can quickly increase your Pinterest Followers and Engagements. Once you get more followers, you need to build more trust in your company.
Building good trust with your followers will pave the way to sell your product or service to them easily.
Though this is not a Google My Business Ranking factor, I added the strategy about Pinterest Marketing Strategy to update your information about this platform.
Now, let's talk about the main ranking factor of Google My Business. If you continue to follow the strategy mentioned below, you will rank well in your targeted keyword, no matter if the competition is high or low.
Build Citations [Submit Your Business to another business Listing Site]
NAP (Name, Address, and Phone Number) are the main ranking factor in Google My Business. It is because of the NAP that citations are built for your business.
When you build citations of your business, you can easily rank high on Google Maps. Eventually, there will be a visible trust established for your business.
When you submit your business information (such as name, address, phone number, opening-time, business category, etc.) in other business listings, you easily create more citations (location authorization).
Are you not familiar with Local Citations yet?
Don't worry; I have published an in-depth article on Local Citation recently. Must read it to know more about this topic.
It is a fact that other business listings also give you good business.
Sulekha, Indiamark, Amazon, Flipkart, Yellow page, Tripadvisor and many more like these are examples of business listings.
This business listing sites rank very well in Google. When you submit your business on these listings, you can easily sell your product through them.
Keep in mind that you have to rank high in these business listings. Only then can you sell your product over there. Otherwise, they will only help you build citations.
The good news is that it's not hard to rank in the business listing site. It's the same as in GMB. Many small business owners who followed this strategy vouch for it, as they got immense success.
Here I am sharing my post sharing routine with you.
When I share my post on Google My Business and Social Media, I also share these posts on the business listing site.
But when sharing it on a business listing, I always change post description.
Why? Because if I use one description on all business listing sites, then Google will penalize my business listing. They could even block my business listing.
Do not copy material (content) at all, as it is plagiarism, and Google catches you instantly for it.
I share my post on the Top 10 Business Listing Site List. These sites help me increase my ranking and also increase income.
Top 10 Business Listing Site List
Submitting my business in these listings got me a good result, so you too should try. Share your result with me in the comment box. I would love to see your results.
According to me, you should share your daily post on the above businesses listing site only.
These websites' ranking is good at Google, and they are also reputed ones.
The above websites help you build citations and also generates sales, but this is not enough for high ranking.
You have to submit your business on more business listing sites for more citations.
Once you build high citations (location authority), you will rank well in Google Map Business.
The Location authority is also called Citation Trust. You can Check Your Citations Trust by Majestic Tool.
Schema Markup
Schema Markup is a type of HTML code (semantic vocabulary) that you put into your website <head> to </head> part to help all the search engines return more informative results for the user. If you have ever used rich snippets and data highlighter, you will understand what schema markup is all about.
When you add local business schema markup on your website, you can add additional information about your business and services.
The local business schema informs Google about your business information and Google My Business account.
Using schema markup can increase your CTR (click-through-rate) In Search Engine Result Page.
You will get lots of online Schema Generator Tools and websites like Schema.org or Microdata Generator and many more.
You can easily make your schema code from these tools. But before you make this code, you should read Google Guidelines for the local business schema to learn the basics.
Once you have makes this code, you can check your code in one click by Google Structured Data Testing Tool.
This tool show previews of your schema code live in Google.
You can easily find out if your code is tailored to Google's guidelines and how your code will perform in Google.
How To Improve Google My Business Ranking
If you are doing everything which I have told you above, then generally, you will see good results with this ranking strategy within one month, or maybe even in 15 days.
Now, your business listing ranks in all targeted keywords.
But, according to my experience, it is not enough for good business.
Now is the time that you should try to rank for similar (related) keywords.
Before you go for a similar keyword ranking, you should analyze your Google my business listing.
If your listing has many negative reviews, you have to delete those reviews to improve your ranking.
No idea on how to delete a negative review? You will learn through this article in a while.
Once you delete your negative review, you can gradually see improvement in your ranking.
Now, you need to find LSI and Long tail keywords around your main (primary) keyword.
Before we go to find those words, I'll teach you how to remove negative reviews from the Google Maps business?
Delete Google My Business Negative Review
No one likes negative reviews on their business for obvious reasons. It brings damage to your reputation in the market.
Moreover, it gives a wrong signal to customers regarding your product and services.
If your GMB account has been negatively reviewed several times, then those reviews inevitably cause a lack in your ranking.
Deleting those reviews will give you a good ranking and increase your additional income.
To delete a Negative/ Bad Review from Your Google Map, you have to flag out your review as a policy violation.
Here are the Steps to flag out negative reviews:
Desktop
Sign in to Google Maps Business.
If you have multiple listings, open the location you'd like to manage.
Click Reviews from the menu.
Find the review you'd like to flag, and then click More Flag as inappropriate.
Mobile
On your phone or tablet, open the My Business App.
Tap Customers
Find the review you'd like to flag, and then tap More Flag review.
Wait, your work is not over yet, you have to inform Google about that Flag review.
You can inform Google using three methods:
Tweet on tweeter
Call on toll-free number
Contact Google My Business Support team
I already gave you all Google My Business contact details at the start of the article.
You can use any one method for connecting with the Google support team.
As soon as you inform Google about the review, they will check it.
If that review is irrelevant to your business or creates a policy violation, then Google automatically deletes that review.
Once you delete that review, you will see your Google Map Business ranking is improving.
Sometimes Google doesn't delete a negative review. In that case, you have to make a positive response to that negative review. (The eBook at the end of the article will tell you Google's tips to respond to negative reviews in a positively.)
Improve Google Map Business Ranking According To Insights Report
Insights are the main part of Google My Business. Because of Insights, you get a brief Report about Your business listing Report. It tells "How Your listings are performing in Google" and "Which changes you have to make in your Business".
If you do changes based on your business insight report, then unquestionably, you can elevate your Google my business ranking.
Go to the Google My Business Dashboard, click on Insight option (Above Reviews option).
Once you open the insights report, you can see lots of Different Types of Reports options (stated below).
Google My Business Report Types
How customers search for your business
Queries used to find your business
Where customers view your business on Google
Customer Actions
Directions requests
Phone calls
Photo views
Photo quantity
Every single report is instrumental in increasing your ranking.
The 'Queries used to find your business ' report:
This report helps increase your ranking and bring more revenue.
How?
I will explain that in a few moments.
First of all, analyze which your queries drive more traffic to your Listing.
Copy First Query (Keyword), paste this query in the keyword research tool.
Here I am using the SEMRush
Then SEMRush Tool shows you all related keywords around your main keywords.
SEMRush is the #1 keyword finder tool because they provide lots of advance filters along with keywords results.
Below you can see, I have highlighted some of the filters. You have to filter your keyword report according to your requirements.
USING SEMRush:
Don't panic if you don't know how to do proper keyword research with SEMRush. I will teach you that as well 🙂
First of all, click here to Sign up for 14 days free trial of SEMrush. Many bloggers swear by it, as using SEMrush has been a turning point for their website's success.
Once your Sign up process is complete, you will be on SEMRush Dashboard.
You will get a keyword magic tool option, click on that option, and enter the keyword finder section.
Set up your country, enter your keyword, and then Apply.
With the blink of an eye, you'll get a list of your keywords.
That's it; the SEMRush tool is a breeze to use.
Save those keywords in Excel file with search volume, keyword difficulty, and competition.
Once again, copy the second one keyword from Insight Report, paste in tool again, and repeat the keyword research process.
Repeating this process a few times will give you a lot of keywords with your ranking keyword.
Now add those keywords in your Google Map Description and publish posts with those keywords.
Also, Add the keywords In Your Website Description and Website Content too.
Website on-page set up is hands down one of the main factors in ranking.
If you implement this strategy in your Google My Business Listing, you will see a good result in your ranking within a week. However, sometimes, it does take a longer time.
Website On-Page setup Boost Your GMB Ranking
Your Google map ranking is based on multiple ranking factors. Website On-Page is one of the main ranking factors.
Now a question is raised at this point.
How to set up (optimize) website and it's content for a better ranking?
Here I am telling you some quick steps of on-page setup for optimizing your content.
Website On-page Set Up For Google My Business ranking
You might have already created a Contact page, but you have to add more information about your business in the Contact Page.
Add Your Google My Business Account Full Title in the H1 tag
Add Your service Location
Write a short and attractive description of the service with your location. Give the outbound link to any website that has previously published an article about your location. Usually, I link to Wikipedia as it has already published an article about our vicinity.
Add social media Share Option.
Add social media and another business listing review option for customers, which allows customers to review you everywhere easily.
Use Long Tail, LSI, and Similar Keywords with your location in the H2 tag under the H1 tag.
Add YouTube Videos about your service, or you can also add your customer's testimonials.
Add your office address, the one you have already added to the GMB account.
Set Up the opening and closing time of your office, just as given in the GMB account.
Add Contact Number, which you have already added to the GMB account.
Embed your Google My Business listing At the End of the Contact page.
[open the map-> Open Your Business-> Share-> Embed a map-> Copy HTML-> past in contact page]
Set up business open-close hours In Website Footer.
In the screenshot below, you will get more ideas about the basics of website On-page set up for Google My Business.
If you have followed all the above steps correctly, you can see a boost in the rankings within 2-3 days.
These steps also improve Local Organic ranking, because you provide exact information about your business with location authority.
Google always shows results based on the searcher's location.
When you add your location to the website pages and Google accounts, it builds a high citation flow around your business.
As a result of this, you will get better ranking in Google Maps Listing as well as in Google organic results.
Advanced Tip:
Your website loading speed boosts your website ranking in SERP, and your website speed almost depends on your hosting.
Conclusion
I hope this article gave you clear insight on how to use Google My Business and get soaring success.
No matter whether you are new or you have experience with Google Maps Business, this article will give you immense knowledge about all the dimensions of Google My Business.
This article will help you to familiarize yourself with the Google map business. Also, I shared my own experience and explained in detail how to put your business on Google maps.
In other words, I elaborated on how Google Maps works and what strategy you should use to rank higher in GMB.
Mobile Marketing strategy And Social Media Strategy is a very useful strategy in the world of digital marketing.
No one tells you how to increase the local business using schema markup because very few know about it. And even if they know about schema, they will never share it with you! Although this strategy actually works 2020 and beyond.
One of the main things to keep in mind is to always use your Similar, LSI, and Long Tail Keywords around your Main Keywords Google My Business Keyword + Location.
The ranking for Google My Business Listing mostly depends on your business citation trust.
Submit your Business on other local business listing sites to increase your citations for a higher ranking.
Thank you for reading the article! If you have any questions regarding this article, go ahead, and leave a question in the comments below.
If you like this Google my business overview and found it helpful, please share it with others. Your share will spread our message to everyone out there starting out a business.
Your share may help many small business owners to increase their income by Google My Business.
The share button is below. 🙂